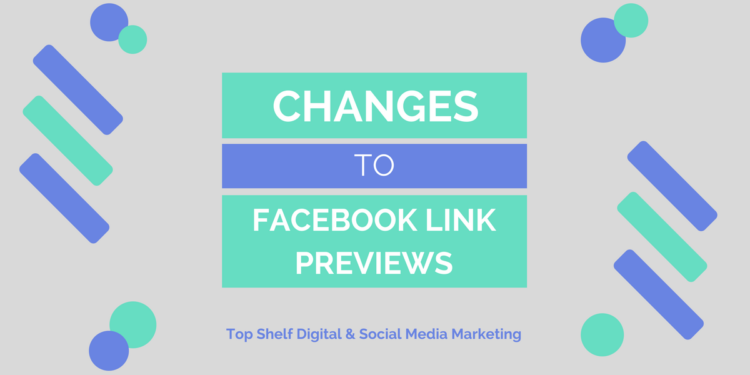 In late June, Facebook announced they will no longer allow editing of link previews for posts as part of its mission to reduce fake news on the platform. While we commend Facebook's commitment to authenticity, this change to the API is going to present a few challenges for digital marketing strategies.
When Facebook announced the new policy, which goes into effect on July 18, they said, "We're working to find other solutions that allow publishers to share customized content on our platform, and we will have more to share in the coming weeks." Unfortunately, we have yet to see an update or solution for how brands and publishers can customize post content.
At this point, Top Shelf's President and Executive Director is not confident Facebook is going to put together a new custom link process prior to the API change this coming Tuesday and our team is proposing some changes to our existing digital marketing strategies to circumvent the effects of Facebook's update. Moving forward, until an updated API allowing customization goes into affect, we recommend the following:
For links you share that your brand does not own, for example any link external to your own websites, we recommend reformatting lead-in content to include a short link to the web page. This retains the look and feel of customized link posts and doesn't compromise the graphics you've created. Most Facebook users are web-savvy enough to know to click blue text to follow links, and they'll likely notice that the photo is no longer part of a link.
The above strategy is also recommended for links that you do own but want to employment custom marketing for. An example of this would be a web page that you promote using various images as part of a larger campaign.
For links that you own, things like blog posts or static web pages, we recommend following Facebook's best practice to use Open Graph meta tags to tell the API exactly what you want to put in the link preview. For Top Shelf clients, we are able to put together the information and the images for the tags, but who executes them in the backend of the site depends on how the site is currently managed and what platform its built on. Until we get a protocol for this in place, we're able to share blog content in the same way that we recommend sharing external web links.
Have questions about how Facebook's API change is going to affect your content marketing strategy? Give us a call and we'll help you identify your strengths and opportunities for improvement.