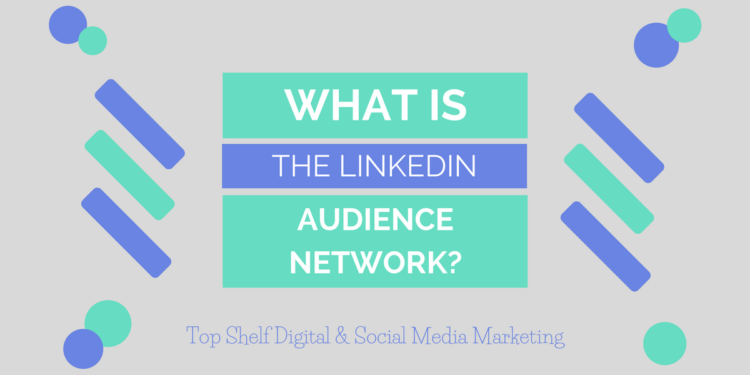 LinkedIn finally introduced it's own native advertising network this week, the LinkedIn Audience Network. The new advertising component allows marketers to place Sponsored Content on high-quality, third party publishers across devices.
The LinkedIn Audience Network Defined [by LinkedIn]:
The LinkedIn Audience Network is designed to increase your marketing footprint beyond the LinkedIn platform so you can extend your campaign's reach, deliver on your budget more easily and get your content in front of the right people, wherever they are. (Here's the full blog post introducing LinkedIn Audience Network.)
What Does this Mean for LinkedIn?
The LinkedIn Audience Network is the latest enhancement in a series of updated features dating back to before Microsoft acquired the company in December 2016. Over the last two years, LinkedIn has significantly improved its publishing platform, streamlined its mobile and desktop apps, and debuted targeting tools. It hasn't been a complete overhaul, but it's definitely been an improvement.
Although LinkedIn's critics continue to call its advancements, "playing catch up," the platform does offer a few advantages over some of the more popular social networkers. For example, LinkedIn has fewer spam profiles, less political and sensationalized news, and much less user venting. Its commitment to authenticity and manners are two of the big reasons so many people have been migrating to the platform as their primary professional social network.
As more and more people use LinkedIn as their digital resume, marketers are eager to use the platform to precisely target audiences. Adding third-party advertising to the platform has been a long-requested feature by many of LinkedIn's biggest advertisers. Now, Sponsored Content will be more dynamic and show up beyond users' newsfeeds.
How Does the LinkedIn Audience Network Work?
LinkedIn product manager Divye Raj Khilnani explains how the new LinkedIn Audience Network works in this VentureBeat article:
"The LinkedIn Audience Network targets LinkedIn members who have recently logged in to their account. They may then start seeing sponsored content on subsequent websites and mobile apps they visit, though Khilnani told VentureBeat that the vast majority of the mobile impressions are served in apps.

LinkedIn is working with a number of ad exchanges for the program, including MoPub, Rubicon, and Sharethrough, which deliver sponsored content to a variety of websites and apps such as MSN.com, Outlook.com, and MyFitnessPal."
The Elephant in the Room: Analytics Reporting
Some social media marketers may be hesitant to jump onboard so quickly, and that's more than understandable. One of the biggest drawbacks LinkedIn advertisers cite is the lack of reporting transparency.
"When you're competing with the likes of Facebook, where it's less expensive and you have access to much more refined targeting and better numbers, it's hard to justify the cost, even when it's the right audience," Alison Herzog, director of global social business and digital strategy for Dell, tells Adweek. "Maybe we've just gotten spoiled with Facebook. But when you're a big brand and you're spending a lot of money, you expect more."
Preliminary research into the LinkedIn Audience Network ad performance and reporting seems to suggest LinkedIn Audience Network advertisers can expect much of the same, cumbersome reporting that's already available through the platform. According to LinkedIn, basic metrics such as impressions, clicks, CTR, average CPC, average CPM and total spend can be exported and downloaded via CSV file. Graphics similar to those currently available on Company Pages are also shown.
Final Thoughts
Time will tell how valuable LinkedIn's new third-party ads are for marketers. Currently, the LinkedIn Audience Network Sponsored Content will mostly appear within third-party apps. This may restrict targeting depending on what third-party partners come onboard. Another hurdle to success may be the limited performance and reporting tools offered by LinkedIn.
About Top Shelf
 We firmly believe that "Teamwork Makes the Dream Work" at Top Shelf Digital & Social Media Marketing. Our talented team of digital marketing specialists works together to set your brand up for success. We offer full-service digital marketing services including:
Auditing your existing digital presence and assessing your competitors
Creating a unique digital marketing strategy to achieve your goals
Designing bespoke content for your brand
Distributing content across your digital channels
Reporting results and key performance indicator metrics
Now that you know a little about us, we'd love to hear about you. To see if your needs align with our skills; tell us a little about your brand.