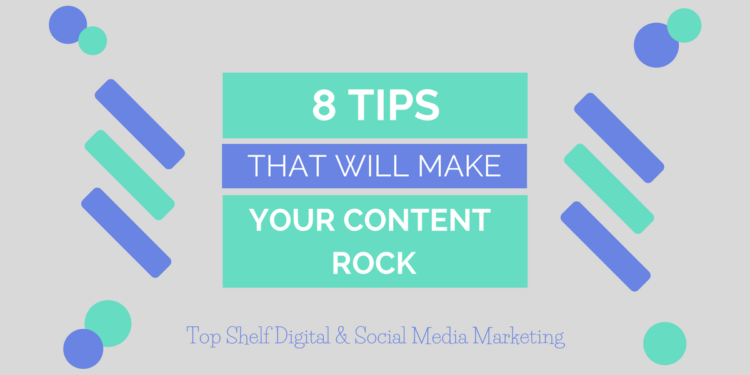 The art of content creation is what sets great marketing professionals apart from the rest of the pack. Clearly communicating a brand's unique selling propositions in a way that's entertaining and visually appealing sounds much easier than it is – done well, it's magical. It can help to think of content creation like telling a story. Savvy marketers weave together authenticity and amusement to elicit an emotional response and create relationships between brands and their target audiences.
Tips for Successful Content Creation
Make your content unique & relevant
The best content is useful – so create things that help, educate or entertain your target audience.
Don't reinvent the wheel. If someone else has already created a piece of content, and you can't build on it to improve it, use the existing work as part of your content curation strategy.
Personalize your content by addressing your target audience's pain points. This is a great way to build trust! It also shows that you understand their problems and have solutions ready and waiting.
Create native content
All social media platforms are not created equal. For example, Facebook and Instagram content needs to be highly visually engaging, whereas the tone on LinkedIn should remain professional.
Creating content with the purpose of sharing it across multiple platforms is a faster way of increasing reach and following. Just make sure you're sharing it in a way that makes sense for each platform. When in doubt, omit content from one of your profiles and use it where it best fits. Bonus: this gives your audience a reason to follow you across all your channels.
Diversify your content
Whether you follow the 80/20 Rule or something similar, remember that nobody enjoys blatant self-promotion. Avoid treating every piece of content as hard-sell pitch, and focus on creating content that builds relationships.
Variety is the spice of life and conveying your message via various mediums – video, text, graphics, audio, etc. – keeps things interesting for your target audience.
Leverage third-party & user-generated content
People are more likely to believe positive statements about your brand, product or service from a third party than they are coming from you. Be sure to promote favorable customer reviews, articles and interviews.
"It does not get much more authentic than user-generated content (UGC). 93% of consumers surveyed by Offerpopsaid that content other customers created egged them on in their purchase decisions." (Jeff Bullas)
Create (and follow!) a content schedule
Strategize how often you're going to post across each social media channel, and what topics you'll cover at what intervals.
If you commit to publishing a blog or newsletter, make it a priority to stay consistent.
Track metrics and collect feedback, then adjust your strategy
It's not good to become lost in reporting, but you should definitely keep an eye on what's working so that you can maximize ROI.
Don't be afraid to take chances and try new things. Content creation is a combination of art and science so as long as you measure results, you'll learn from experimentation.
"Believe it or not, 40 percent of people who perform curation do not measurehow well it performed. Don't become one of them!" (Digital Currency)
Optimize content for mobile
There is no denying the importance of mobile-friendliness as more and more people are accessing the internet away from their desktops and laptops.
Ad creative must look equally good on desktop and mobile devices, and don't let your graphics team forget to address third-party apps separately.
Stay true to your brand
Your brand is different from its competitors and focusing on unique selling propositions can help potential customers select your product or service.
If your company stands for a particular social or political cause, consider using that to connect with likeminded consumers.
Develop a brand voice and stick to it – this helps people connect with your brand on a personal level. And people are more likely to buy from brands they know, like and trust!
Final Thoughts
When it comes to content creation, the name of the game is relationship building. Use the 8 tips and tricks outlined above to get your content marketing strategy off the ground, or fine-tune what's already in place. If you're not sure how to get started, or you don't think you can maintain a sustained content marketing strategy, consider outsourcing your social media marketing.
To see if your needs align with our skills; tell us a little about your brand.